At Wee County Trophies we offer a professional In-House engraving service. We have full control over all engraving which allows us to provide a speedy turn around. Our computerised engraving machines have a variety of fonts and layout options.
Engraving plates are the perfect way to personalise and complete the look of any award or trophy. Choose from silver or gold plates. Engraved plates are an extra cost & cost will depend on how much text is required.
Medals can also be engraved.
This engraving technique allows us to engrave crystal, glass, wood, acrylic, metal & much more. Laser engraving is the ideal method to personalise awards & gifts .
Laser engraving directly on to surfaces produces a very high level of detail & quality of images, logos & crests. Our crystal, glass & wood awards come in various shapes and sizes meaning that the set up is unique to each award.
For laser engraving we need vector files or high quality bitmap files to achieve the perfect finish.
Items that can be produced on our laser are signs, name badges, cake toppers, boxes to list just a few. Contact us for more information if you have a specific requirement.
Cutting service is also available.
Make your medals or trophies stand out with personalised centres with your logo, club crest or photo.
Available in 25mm & 50mm diameter.  Available Flat or domed.
Minimum order of 40 centres.
All crests/logos must be sent in the highest resolution available, as this will determine the quality of the finish.
As part of our service, we fit all standard & custom centres onto all trophies & medals ordered.
The specific award you are looking for may not already exist.
Fear not, we have and are continually producing unique awards for a multiple of purposes and occasions for our customers. We can create one off or multiple awards in different shapes & sizes with your image, logo, club crest & text to crystal, glass, wall plaques & locally sourced wood.
We receive all sorts of requests so don't be afraid to ask!!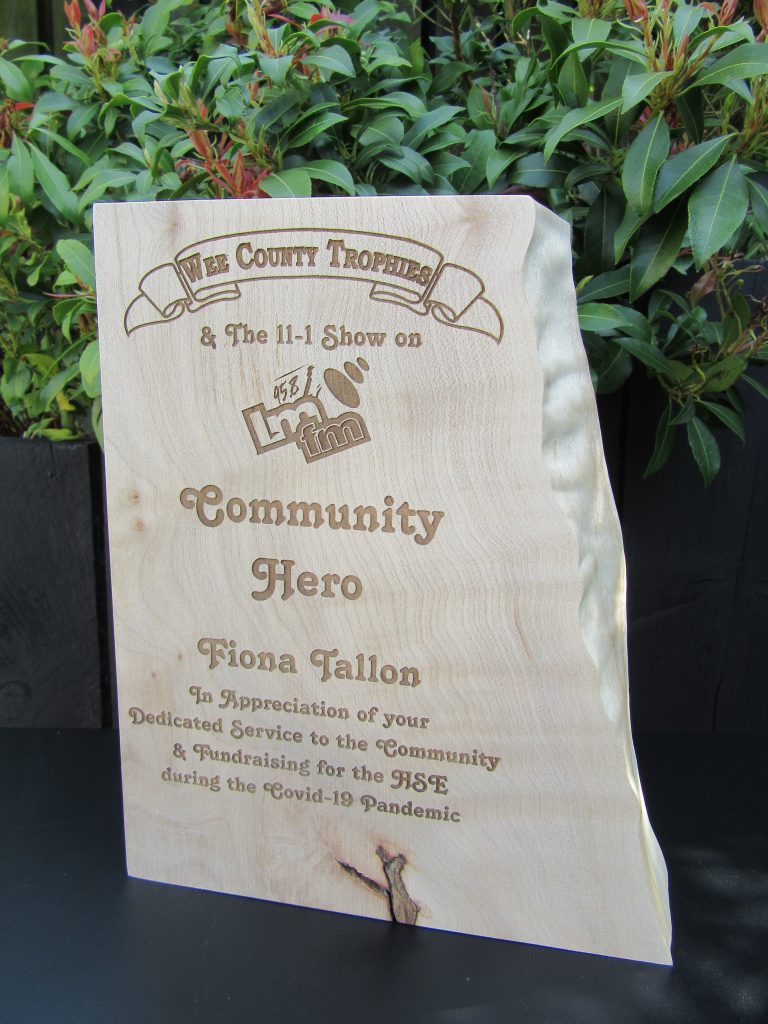 For our photo gifts and mugs we use a printing process to transfer images or text on to a variety of our gifts. This is a perfect way to add your favourite photo or message to a gift for your loved ones.
Personalised gifts are the perfect way to to show how much you care.
These gifts are the perfect keepsake to mark that special occasion.
Phone:
0416857815
0876689470
0876325252
Email:
info@weecountytrophies.ie
Location: 
Ardee, Co Louth